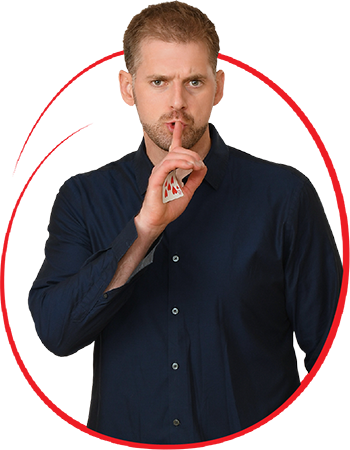 Name: Josh McVicar
Alias: McVicar the Trickster, McTrickster, The Trickster, Stud Muffin (okay… that last one may be a stretch)
Home Base: St. Louis, MO
Josh McVicar has been astounding with providing comedy, magic and hypnosis professionally for more than 15 years.  He's performed at hundreds of colleges, corporations, parties and special events with his unique brand of entertainment that combines side splitting humor, hypnotic trances, explosive surprises, and mind bending magic to create an experience like no other.  With shows packed full of laughs and audience participation, McTrickster will give a performance you are sure not to forget!
McVicar has performed on location all across the country, from New York to California, and everywhere in between.  His extensive client list includes universities such as Washington State University, St. Louis College of Pharmacy, George Mason University, University of Alabama, Texas State University, and Lake Forest University, as well as corporations which include Macy's, Diamond Pet Foods, and Red Robin, to name a few.  But Josh would like to remind you that size doesn't always matter ("that's what she said"), and he can perform for smaller events as well — family reunions, birthday parties, class reunions, retreats, etc.  And while the McTrickster does have a brilliant knack for entertaining for the adult crowd, he's got tons of material for the kiddos, or just the kids-at-heart, as well.  Whoever your audience, you decide your show's maturity rating.